"I Thirst": sharing the salvific love of Christ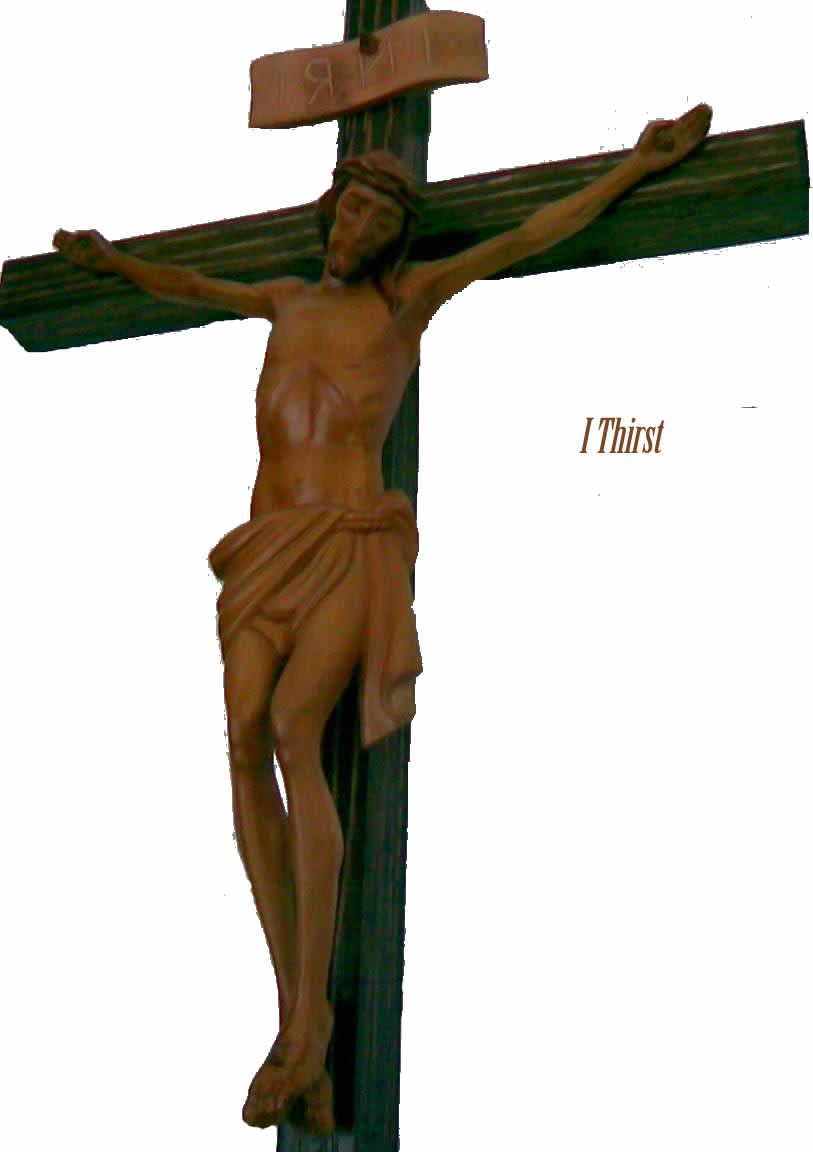 Retreat for priests in Rome
Introduction by Fr. Tom Forrest
Mother Teresa of Calcutta was born in Skopje, on the Yugoslavian-Albania border. In 1950 she founded the Congregation of the Missionaries of Charity, which now numbers over 400 foundations with over 3,000 members in 94 countries around the world. She also founded the Brothers of Charity, the Priest Co-Workers of Mother Teresa and two contemplative groups. The Missionaries of Charity now have seven houses in the USSR (including one in Siberia) and they are abounding in vocations. In Calcutta alone they have 250 novices and hundreds more all around the world. In 1979 Mother Teresa was awarded the Nobel Peace Prize for her work among the poorest of the poor.
Talk By MOTHER TERESA, MC

O Mary, Mother of Jesus, give us your heart, full of love and humility. So we can receive Jesus in the Bread of Life, love him as you love him, and serve him in the distress and disguise of the poorest of the poor.
O Jesus, in union with all the Masses being offered throughout the Catholic world, we offer you our hearts. Make them meek and humble like yours. Amen.
"Be holy as the Father in heaven is holy." This is a clear command from the heart of Jesus. Be holy. Holiness is nothing less than the Father's living example within us. Holiness is not the luxury of the few, but the simple duty of all, and especially of priests, who stand in the place of Christ.
During one of the synods I said to the Holy Father, "First of all, give us holy priests. Then we religious and our families will be holy." The world has never needed holy priests as much as today, when we hear about so much suffering and pain.
What a tremendous gift God gives the priest, to be able to bring Christ's peace and love to the human heart. Just think, how holy the priest must be, how pure the priest must be, to be able to take away the sins of a sinner kneeling before him. We come to the priests as sinners full of sin, and we go away as sinners without sin. What tremendous, tender love God has, to have given the priest this power: Whose sins you forgive, they are forgiven (see Jn. 20:23).
Sometime back, a man arrived unexpectedly in Calcutta. We were at our time of adoration, and he came and prayed with us. Afterward I met with him. He said, "Something in my heart was telling me to come to Calcutta and to pray with you." I could see that his heart was full of suffering and misery.
A priest was in the house then, so I said to the man, "Unburden yourself. Go to Confession and you will be a pure man." He came out of the Confession a different human being, a sinner without sin. I have never seen anything so wonderful. He went straight before the tabernacle and the tears in his eyes were his thanks for God's great love, and for the great gift of a pure heart. See the tenderness gift God has given to the priest!
And what a tremendous gift to be able to say, "This is my Body." In one of our houses we had a mentally and physically retarded child. Whenever we had our time of adoration, I would bring her to the chapel, and I was so impressed by the brightness, the joy in her face, because she knew at whom she was looking. Each time I looked at her, she was looking straight at the Blessed Sacrament.
One day I said to Father, "This child seems to understand; could you kindly give her Holy Communion?" He said, "Mother, how do we know she is prepared?" The girl could not speak.
I said, "I will give her a short examination." I took a piece of bread, an ordinary host and the cross, and I put them all before the child. Then I made signs to ask her about each one. She put her finger on the bread and then touched her mouth. Then she out her finger on the host and touched the cross.
Father said, "She knows," and he gave her Holy Communion.
See how tremendous is God's longing to come to us! This little one was crippled and disabled, yet deep down in her hear Jesus was longing to come to her in full joy. The priest was so grateful that he could give such joy to that child.
I have seen it again and again among the people in homes for the dying. After they have made their peace with God, something happens. It is so beautiful.
The last time I was in New York, at our home for AIDS patients, a young man called on the phone. "Mother Teresa, I think I have the disease. I'm going to the doctor and if he says I have it, I want to come to you, I want to die with you.
I said, "Yes, you would be most welcome."
The next day he phoned again, "Yes, I have it." I said, "Come immediately. I will be very happy to have you. Come."
He came, with joy on his face. He knew that he was wanted, that he would be able to make his peace with God, that there would be a priest there to forgive him. He lived only two more weeks. He died a beautiful death, a beautiful death. The priest who heard his confession gave that man a joy, a peace that no one else could give. He died a holy death, because his heart was spotlessly pure.
We see great things happen in our homes when people come face to face with God. The priest prepares them to meet Jesus; he helps them to find the joy of living and being loved. The priest is a wonderful gift of God, but what a great responsibility to bring Jesus to others!
Jesus made himself the Bread of Life so we can have life, so we can receive him, live with him and keep him in our hearts. It is very important that often during the day we say, "Jesus is in my heart, I believe in your tender love for me. I love you. In union with all the Masses being offered throughout the world, I offer you my heart."
After we were allowed to enter Russia, the doctor in charge of one very large hospital accepted us as workers. We began our work by cleaning the toilets. That was our first apostolic work. We also did many other humble tasks.
One evening each week a priest came. We had holy Mass in our little chapel, and he gave us Jesus. It changed the whole atmosphere of the hospital; the whole place looked quite different. After a week the doctor came to me and said, "Mother Teresa, what's happening in my hospital? I said, "I don't know, doctor. What is happening?" He said, "Something is happening. The nurses and the doctors are much more kind, much more loving with their patients. The patients aren't screaming with pain the way they were before. What's happening? What are the sisters doing?"
I looked at him and said, "Doctor, you know what is happening. Jesus is in this place now. There, in that little chapel, he is living, he is loving. He has brought this joy and peace." He just shook his head and said, "thank you."
It was wonderful to feel the presence of Jesus in the hospital. After 70 years, his presence was being felt. Everybody knew that there was Somebody there, thanks to the priest who gave us Jesus. He brought about a tremendous change in that hospital.
About 30 of the disabled and crippled patients in Russia have died beautiful deaths in the presence of the priest. His presence there, his joy and his love, have brought so much joy into the hearts of these people who suffer terribly. A gift of God — that is what the priest is.
What a terrible responsibility for you, to be God's love, his compassion, his presence. We see it again and again in all our homes: people come with a great longing to die at peace with God, to tell him that they are sorry, to be forgiven.
What a tremendous responsibility for you, to be holy. You can't give to others what you don't have yourself. That's why it is important to have a deep love for Mary. She will guide you. She will protect you. She will keep you for Jesus. There are so many, many temptations and difficulties in the world today. Try to be pure and humble like her. She will help you to be holy like Jesus. Her purity and humility attracted God himself. That's why she was chosen to be the mother of Jesus.
Yet, she was never chosen to be a priest. Some people asked me once about women being priests. I said, "Nobody could have been a better priest than Mary, and yet she remained only the handmaid of the Lord." Soon it was in all the newspapers" Mother Teresa says that women can be better priests." Thank God, many people came forward and proved that, because I was really proclaiming the humility of Mary.
You as priests should cling to her and love her. She will be a real mother to you. She will help you. She will guide you. She will protect you from many difficulties and temptations.
I can proclaim that all my sisters owe profound gratitude to our Lord for giving us daily adoration in every house of our community. Bishop Fulton Sheen, on his 81st birthday, came to our house in New York and I happened to be there. He said, "From the day I was ordained a priest, I have never missed a daily hour of adoration. I owe everything to Jesus in the Blessed Sacrament. Everything."
Bring to others this joy of adoration. We would like to establish it in each parish at least once a week, to bring together the people who are hungry for God. I have never, never seen so much hunger for God as I see today in all the countries where our sisters are working. It is a wonderful gift of God to be so close to him in the tabernacle, to receive so much tender love from him.
When we look at the cross, we know how much Jesus loved us when he died for us; when we look at the tabernacle, we know how much Jesus loves us now. This is why it is very important for us to believe in the tender love of Jesus in the Blessed Sacrament. His love today leads us to choose the better part.
We now have 27,000 sisters, whom we call Veronica Intercessors, praying for 27,000 priests, offering everything for the priests that they have adopted. If anyone here has not yet received a sister to pray for him, kindly give your name to Father Forrest and I will get some nuns to pray for you. This has been a wonderful gift of God to us. We do it for the glory of God and for the good of the church. It has brought so many priests much closer to the Sacred Heart.
Mary must remain a real Mother for us, to take care of us, guide us and protect us when we are tempted and exposed to dangers, I think that priests today are so exposed to dangers. I think that priests today are so exposed. They experience so many difficulties that they continually need a mother's care to guide them, to protect them.
The poor are a wonderful example. The people who die in our homes die such beautiful deaths with baptism as their "ticket for St. Peter." We help each one to go to Jesus with a pure, loving heart. The priests who take care of our people guide them, protect them and help then as they die.
I will never forget the time I picked up off the street a man covered with worms. After I took him to our home, the first thing he said was, "I have lived like an animal on the streets, but I am going to die like an angel, loved and cared for."
It took us three hours to remove all the worms from his body, because we had to take them out one by one. At the end we prayed for him and we gave him "the ticket" and then he looked up and said, "Sister, I am going home to God." Those were the last words from his mouth and he died with a beautiful smile on his face; he did go home to God.
All these people were dying, unloved, uncared for, but now with the blessing of God they are going home to heaven. In all our homes for AIDS patients, the people know they have no chance whatsoever: there is no cure for them. They know that they are physically lost. It is so beautiful to see them spending time before the Blessed Sacrament. In the chapel they can talk to Jesus and be with him. A priest comes nearly every day to see them, to help them, to pray with them. It is really a wonderful opportunity for us, seeing our patients suffer with so much love. We learn from them how to love.
I will pray for you so that during these days o prayer and sharing together you really grow in a tender love for Jesus, so that you really grow in an intimate love for Jesus, so that you really feel a total attachment for him. As St. Paul said, "Who will separate us from the love of Christ?" (Rm. 8:35). Nothing and nobody will. Make a strong resolution that you will grow intimate, personal attachment to Christ. Let Jesus be everything in your lives, so that you can give him to others. Then, like St. Peter and St. John, people can look at you and see only Jesus. May we, also, when we look up at our priests, see only Jesus.
Please pray for our Missionaries of Charity, so that we may not spoil God's work, so that we can give to others the joy of the presence of Jesus and the love of Mary, so that we can teach our people to pray. Pray also for the Priest Co-Workers of Mother Teresa.
Pray especially in these days for the refugees, who are suffering so much. They are crowded together everywhere, so let ask Our Lady to be the mother of refugees so that we can help them to accept this suffering and make use of it for peace in the world.
Let us join together with a determination to satiate the thirst of Jesus on the cross for the love for souls. When he said, "I thirst," they thought that he was thirsty for water, so they gave him vinegar. He didn't take it, but his thirst was real; it was for the love of souls.
Today he is saying the same thing, to you and me, "I thirst for the love of souls." How many of us here today will satiate that thirst of Jesus by working for the salvation and the sanctification of souls? That is his thirst, his hunger. This terrible thirst was so painful for him on the cross — he knew that although he was going through so much suffering many would not accept him.
I will pray for you to be holy priests. The church has never need holy priests as it does today. Let us allow Jesus to use us all for his glory and the good of the poorest of the poor, so that we can satiate his burning thirst for the love of souls.
God bless you.