THE DIVINE LITURGY OF ST. JAMES (3)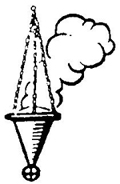 First Prayer of incense:
Sovereign Lord Jesus Christ, Word of God, who freely offered Yourself as a
blameless sacrifice upon the cross to God the Father, may the holy and mystical coal of Your double nature, that touched the lips of the prophet and took away his sins, touch also the hearts of us sinners, and purify us from every stain, and present us holy before Your holy altar, that we may offer You a sacrifice of praise.
Accept from us, Your unprofitable servants, this incense as a sweet spiritual fragrance, and make our sinful souls and bodies holy and fragrant, purifying us with the sanctifying power of Your allholy Spirit.
For You alone are holy, O Savior and Lover of mankind, You who sanctify us and are given to Your faithful; and glory becomes You, with Your eternal Father, and Your allholy, and good, and lifegiving Spirit, now and ever, and for all eternity. Amen.